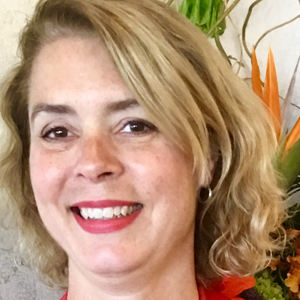 Senior Salon Coordinator
In 1986, Kelli Crews took a part-time job at the then-new Zimmiz salon to help make ends meet while attending UNF. She went on to earn her degree in Marine Science from Jacksonville University, but couldn't bring herself to "graduate" from Zimmiz. Thirty years later, Kelli's lovely smile still greets clients as they come through the door — and she's been an integral part of the salon's success.
Whether at the front desk or in the back office, Kelli keeps a close eye on the business end of Zimmiz. The Jacksonville native says that although she "doesn't have an artistic bone in her body," she loves the salon's creative atmosphere. She also loves juggling the thousand and one details that keep Zimmiz running like clockwork. The love goes both ways — owner Donna Zimmerman says Kelli is her right hand, and clients consider her an indispensable part of the Zimmiz experience.
While Kelli has helped to make Zimmiz a Ponte Vedra landmark, her job at the salon has done a lot for her as well. She enjoys the sense of fun and family at Zimmiz, and credits her years there with curing her early shyness. "We all take pride in what we do here," she says, "and after all these years, I have turned into a people person. I talk to people wherever I go!"
"We all take pride in what we do here and after all these years, I have turned into a people person. I talk to people wherever I go!"
– Kelli Crews