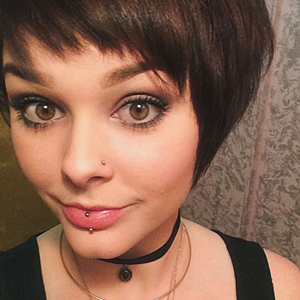 Lizzie Baer, Hair Designer
With a personal tagline like 'Lizzie Baer Does Hair', it's clear that the vivacious Lizzie Baer was born to be a stylist. She first whetted her shears in in high school, styling the hair of friends and fellow students at Jacksonville's Douglas Anderson School of the Arts.
A professional stylist for the past six years, Lizzie excels at short cuts and color but enjoys every aspect of her craft. She is also an accomplished makeup artist.
With an inquiring mind, Lizzie is always learning something new. In fact, one of the most appealing aspects of her career is, she says, "there's no chance of plateauing. There is never a time in the beauty industry when you can't learn new techniques or new tools, or meet new people."
Joining the Zimmiz team was like coming home for Lizzie. The Riverside Hairstyling Academy graduate grew up visiting the salon with her mother and got her very first haircut from Donna. Now a mom herself, Lizzie takes pride in being able to cut the hair of even the most "squiggly" youngster. And she loves carrying on the Zimmiz tradition of skilled service in a friendly atmosphere.
"Lizzie's color and cuts bring me compliments all the time.  I love what she does for my hair, and I love what she does for my attitude. She is a delight!"
– Susan Pelter